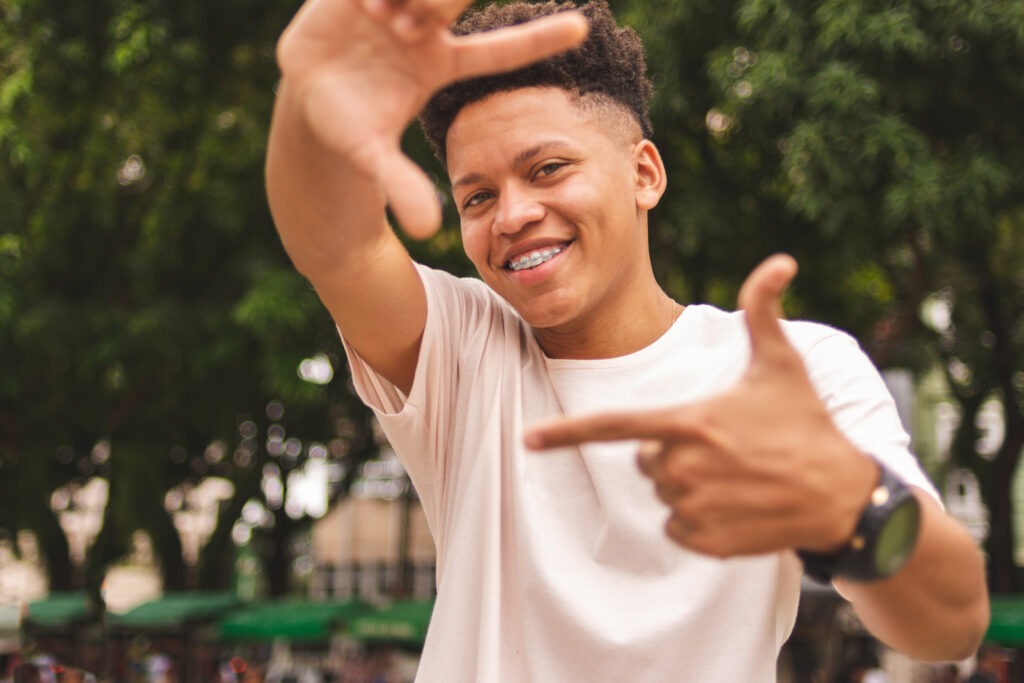 Sensitive teeth may occur for a variety of reasons. Receding gums, tooth decay, exposed tooth roots, and thinning tooth enamel can all cause teeth to become sensitive to temperature, as well as sweet and acidic flavors. However, patients who are undergoing orthodontic treatment are at increased risk of developing sensitivity. It is important to consider all the factors involved to determine what actions you should take regarding your braces and sensitive teeth.
Tooth sensitivity is a condition that often develops due to receding gums. Symptoms include a sharp pain that worsens with pressure on the exposed tooth or when drinking hot or cold beverages. If you are undergoing an orthodontic treatment such as braces, sensitivity is not uncommon.
About 1 in 8 people with braces experience some tooth sensitivity. It is important to know the causes and treatments for this condition. The level of discomfort a patient experiences is due to pressure that is placed on your teeth by the braces and is different from other types of tooth sensitivity because it is not permanent and will only last a few days. This level of discomfort varies from patient to patient.
Factors Impacting Sensitivity
There are many factors that can lead to an increase in tooth sensitivity. The most common cause is due to over brushing. By brushing your teeth extremely hard, you can brush away your gum line exposing the sensitive root area. As a gum line recedes, it exposes porous root surfaces, which causes your teeth to become extremely sensitive. This can lead to painful discomfort due to the pressure that is placed on your teeth from the braces. Brushing your teeth and gums in softer, even circles is the best way to keep your gums intact.
Another cause of tooth sensitivity resulting from braces is improper brushing or improper dental hygiene. This happens when you fail to remove plaque and buildup. Plaque causes your teeth to weaken, leaving them at a greater risk for sensitivity. For patients with braces, it is very important to practice proper dental hygiene because food can easily get trapped between your teeth and braces, and when that happens bacteria can settle, resulting in decay. This makes you more susceptible to tooth sensitivity. If you think your brushing habits are not working well enough, talk to us for more tips on brushing with braces.
Steps You Can Take
There are several things you can do to stop the pain and sensitivity. No matter what is causing the problem, a good dental routine is your best bet. Brushing with a soft brush in an up and down motion vs horizontally can help reduce your risk of developing sensitive teeth. Over-the-counter toothpastes for sensitive teeth can help treat the condition. If you do not experience relief from special toothpastes, other treatments provided by our Orthodontist in Huntsville dentist can help. Talk to us about any lingering sensitivity so that we can work together to address the issue and reach a solution.
Our Huntsville, AL Orthodontist will show you the correct tools and methods to use when brushing and caring for your teeth and braces. If your sensitivity is caused by scheduled orthodontic adjustments, it is safe to take over the counter pain relievers. If sensitivity continues for more than a few days or you have severe pain, please contact our 35802 Orthodontist office for additional advice and to schedule an appointment.
For more helpful tips about managing your braces or dealing with sensitivity, call our Orthodontist in Huntsville, AL office.
Johnson Orthodontics
Email: info@huntsvilleortho.com
Phone: (256) 489-1868
Url: https://huntsvilleortho.com/
2124 Cecil Ashburn Drive, Suite 170
Huntsville, AL 35802