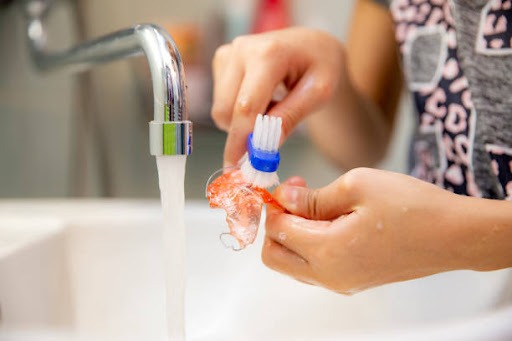 So, you're finally done with braces. Great job! It wasn't always easy, but it was definitely worth the healthy, beautiful smile you've achieved. To make sure that smile lasts, it's important to wear your retainer. Taking care of your retainer is just as important as taking care of your teeth themselves. With that in mind, here are three of our best tips for retainer care.
1.) Just In Case
There are really only two places that your retainer should ever be: in your mouth, or in its case. Easily damaged, it's important to store your retainer in a proper case to help it last. When in the case, you can help prevent your retainer from being damaged, thrown away, or eaten by a curious pet. Batman stores his tools in his utility belt when he's not using them, you should store your oral health tools just as securely.
2.) Keep It Clean
If not taken care of properly, retainers can become pretty gross pretty quickly. You should always remove your retainer when you eat. Eating with your retainer in means you're exposing your retainer to the potential for bacteria or plaque build up, or even physical damage caused by food and drinks. Make sure you remove it from your mouth and clean your retainer properly according to your orthodontist's instructions.
3.) Avoid Harsh Heat and Chemicals
If left in a hot car, or near some other heat source, your retainer can easily become deformed, rendering it useless. Also avoid using products like bleach or alcohol based mouthwash to clean your retainer. It may seem like a great way to keep your retainer clean, but these products can actually damage the plastic.
It's up to you to keep your smile healthy and beautiful. In addition to taking excellent care of your retainer, keep up with your regular hygiene routine and professional cleanings and exams. Schedule your next appointment with our office today to make sure your smile stays bright.
Johnson Orthodontics
2124 Cecil Ashburn Drive, Suite 170